Beast Sports 100% Beast Whey Protein 2 LBS.
Product Description

Low-carb whey protein complex that uses three specific forms of whey to stimulate new muscle and maximize lean body mass.
25 Grams of Protein, Only 4 Grams of Carbs
100% Beast Whey Protein is a powerful fuel to help increase mass and strength. This enhanced Beast formulation packs even more protein and is designed with the highest quality Whey Protein Concentrate, Whey Protein Isolate, and Whey Protein Hydrolysate. At the same time, the new powder formula only contains 4 grams of carbs - that's a 50% reduction over the previous formula.
100% Beast Whey delivers added benefits for increased fitness and strength. The three proteins are digested at different rates for better results. These proteins allow nutrients to repair, rebuild, and strengthen muscle tissue. Vitamins, minerals and enzymes fortify the formula with additional health benefits. The formula also helps the body retain nitrogen, which initiates protein synthesis to develop new muscle, lean mass, and maximum strength.
100% Beast Whey Protein is 100% power. Available in Vanilla and Chocolate flavors and available in 2, 4 and 10 pound sizes.
"Beast Whey™ and our entire lineup of supplements were designed to work together as a team of products that are ready to help anybody who is serious about getting big, being strong, keeping fit and staying healthy."
Suggested Use
As a dietary supplement, use 1 level scoop with 8 oz of water, milk, or your favorite beverage. It tastes great and is easy to mix.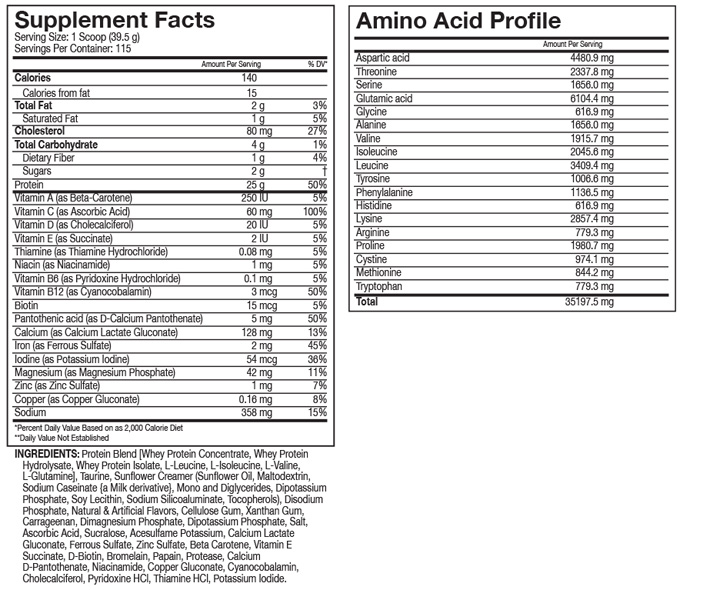 Warnings
Check with a qualified healthcare professional before using this product, or any dietary supplement, if you are under the age of 18 or if you have any known or suspected medical condition(s) and/or are taking any prescription or OTC medication(s). Do not use if seal is broken. Keep out of reach of children.
Find Similar Products by Category