Hardcore Formulations PCT Complete
Hardcore Formulations PCT Complete
Product Description
THE BEST TEST BOOSTER PERIOD. PCT Complete is a powerful HPG axis stimulator designed for serious athletes and adults. This sex hormone management formula can be used as a PCT or wide spectrum performance enhancer. User may experience an elevated hormonal state, leading to harder muscle, better recovery, decreased fat storage, and marked increases in libido.
The ingredient profile of PCT Complete has been researched to address distinct multiple pathways of hormonal influence. Unlike other proprietary formulas with low mg amounts just to have a show on print, PCT Complete is a game changer loaded with clinically researched dosing amounts needed to achieve an effect the user can feel. At 3705 mgs dose, this is what a real test booster is supposed to be.
Arimistane – 200mg: A natural metabolite of DHEA classified as a powerful aromatase and cortisol inhibitor. Arimistane lowers circulating level of estrogen, increase level of testosterone while driving down cortisol. It is considered "top in its class" as a testosterone booster. Arimistane will impart an overall drying out and hardening effect, showing increases in vascularity and increased definition.
Fenugreek – 300mg: Is a native herb in Asia and Europe. Commonly used for erectile dysfunction and to increase sex drive. Fenugreek has the ability to ramp up testosterone levels as much as 26% without causing any suppression of existing levels.
Indole-3-Carbinol – 400mg: A powerful phytochemical derived from cruciferous vegetables. I3C stimulate the rate at which the body expels estrogen, essentially vacuuming away the estrogen. This is quite desirable in favorable influencing testosterone/estrogen ratios.
Mucuno Pruriens – 400mg: Used in India Ayurvedic medicine for more than 4500 years. Mucuno Pruriens has gained world acclaim for it's ability to support healthy sexual functions.
Stinging Nettle Root – 1200mg: Found in South Africa and used for centuries to relieve symptoms of enlarged prostate and reduce blood pressure. Stinging Nettle root can help to naturally boost testosterone levels by keeping the testosterone molecule free from a carrier protein called SHGB. This is an extremely valuable tool because the average body has 1.5% to 2.5% free testosterone so even the slightest elevation cn have dramatic results with muscle growth and libido.
Tongkat Ali – 200mg: Commonly referred to as "The tree that cures one hundred diseases". Tongkat Ali actis directly by stimulation the Leydig cells in the testes of men to produce testosterone. It has been reported to increase testosterone levels by 37% as well as restore atrophied testes.
Safed Musli – 1000mg: Used in Ayurvedic medicine, Safed Musli is a popular aphrodisiac agent for enhancing male potency and commonly presecribed for low sperm count. Recent discovery demonstrates its effects on testosterone via the saponins contain stigmasterol and hecogenin which have an anabolic effect on the body. Safed Musli is listed as a top ten nutrient for bodybuilders by Muscle & Fitness magazine.
N-Acetyl-L-Cystein – 100mg: (NAC) is an antioxidant and a free radical-scavenging agent that increases Glutathione levels, the most powerful antioxidant in the body. It helps protect the liver from toxicities and used in emergency rooms o treat acetaminophen poisoning. Also used as a cold and flu fighter due to its unique antioxidant spectrum.
Black Pepper Extract – 5mg: Piperine, the main alkaloid from black pepper has been shown to substantially increase the bioavailability of the nutrients in foods and supplements. The results of these actions are that nutrients reach, enter and remain within their target cells for longer periods of time than would normally be the case.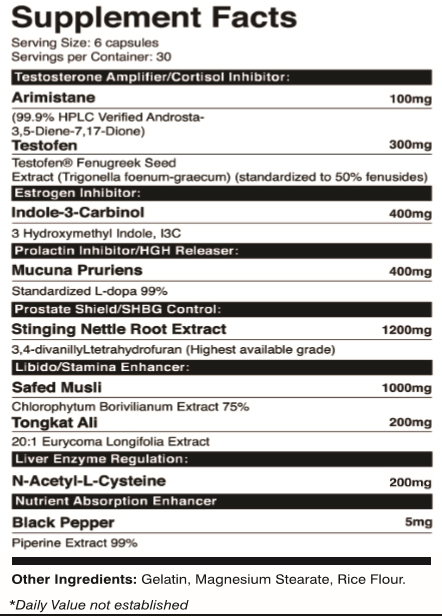 Find Similar Products by Category