Onnit Labs New Mood 30 Tablets
Onnit Labs New Mood 30 Tablets
Product Description
Boost your Mood with 5-HTP and Serotonin
Serotonin has been shown to be a key neurotransmitter linked to mood, happiness, and positive outlook. Combining the two raw building blocks of serotonin, L-tryptophan and 5-HTP, with a converting catalyst, Vitamin B6, New MOOD provides the nutrients to help the body become a serotonin-boosting powerhouse. Adding to the naturally relaxing effects of L-Tryptophan are a host of traditional anti-stress herbs designed to bring you into a state of peaceful calm. Magnesium is an essential mineral vital for muscle relaxation and Vitamin D3 which is increasingly deficient in our diets, has further been linked to positive mood benefits. Ideal for when you are under stress, anxious, or exhausted, New MOOD is also optimal for daily use.
Find your Nirvana
The Buddha described typical life as a state of suffering — the opposite of which he called Nirvana, or a state of pure bliss. Some of the things contributing to the Buddha's philosophy could be low levels of serotonin — potentially caused by inadequate nutrients or a lack of deep sleep. Another antagonist to happiness is stress. Stress creates cortisol which over time can wreak havoc on body chemistry. Niacin and magnesium are included in New MOOD along with a host of herbs with thousands of years of traditional use for helping the body to reduce stress and assist in a state of calm and relaxation. New MOOD is ideal before bed or any time you find yourself stressed out, down in the dumps, or a little too wired.
Serotonin: The natural way
Serotonin has been linked to positive mood and healthy emotional balance. It comes as no surprise therefore that the majority of prescription anti-depressants are focused on creating a surplus of serotonin, typically by inhibiting the re-uptake. New MOOD takes a different approach. The natural production of serotonin begins with the common amino acid L-Tryptophan. L-Tryptophan converts to 5-HTP which is the direct precursor of this essential neurotransmitter (5-HT). New MOOD contains both L-Tryptophan and 5-HTP, creating a time release effect that when combined with Vitamin B-6, assists the body in generating strong levels of natural serotonin.
The science of New MOOD
5-HTP is at the heart of this revolutionary formula, and this is no surprise as a groundbreaking published and peer-reviewed clinical study conducted by Dr. W. Poldinger confirmed the positive mood boosting effects of this nutrient.1 Valerian, another powerful herb, was similarly demonstrated to be effective in improving ability to fall asleep.2 The formula as a whole represents the culmination of the best herbs and nutrients available, each individually helping to contribute to overall peace, tranquility, and positive mood.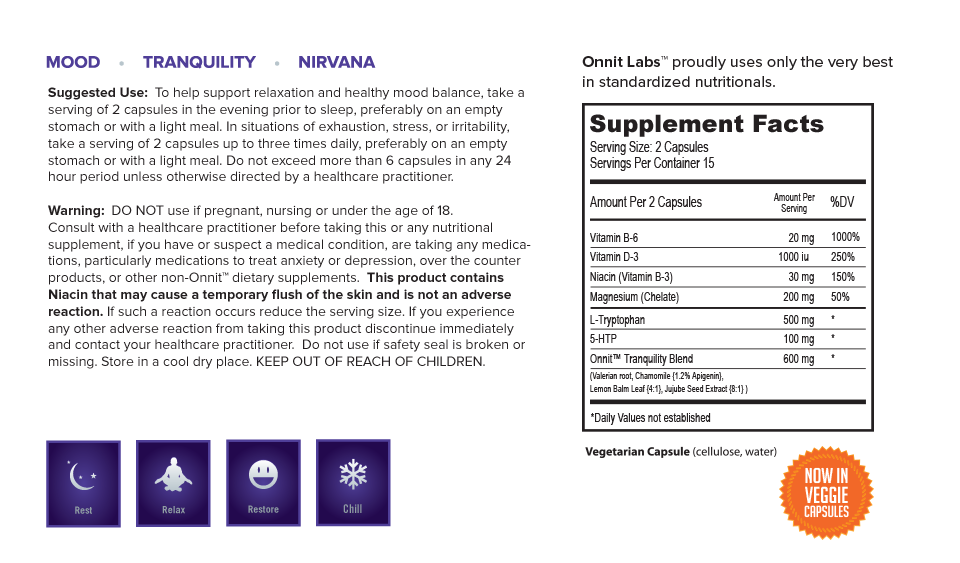 Find Similar Products by Category