Description
Description
Directions

As a dietary supplement, consume 3 capsules per day with or without a meal. Testosol is best used in conjunction with a diet that includes adequate "healthy" fats (non-saturated or trans fats). Testosol can also be stacked with Deprogen ARS to optimize conditioning and performance.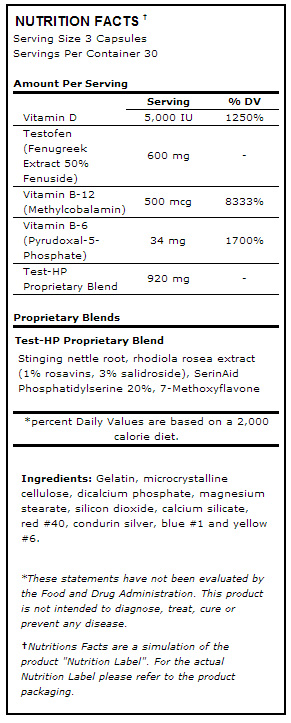 Warnings
For use by healthy adult males only. NOT FOR USE BY INDIVIDUALS UNDER THE AGE OF 18 YEARS. DO NOT USE IF PREGNANT OR NURSING. Consult a physician or licensed qualified healthcare professional before using this product, including, but not limited to, if you have, or have a family history of, prostate cancer, prostate enlargement, heart disease, low "good" cholesterol (HDL), or if you are using any other dietary supplement, prescription drug or over-the-counter drug. Do not exceed recommended serving. Exceeding recommended serving may cause serious adverse health effects. Possible side effects include acne, hair loss, hair growth on the face (in women), aggressiveness and irritability. Discontinue use and call a physician or licensed qualified health care professional immediately if you experience rapid heartbeat, dizziness, blurred vision or other similar symptoms. KEEP OUT OF REACH OF CHILDREN
Reviews
Reviews (0)
Be the first to review this product.
Additional Info
Additional Info
Weight:

1.00 LBS
Shipping:

Calculated at Checkout